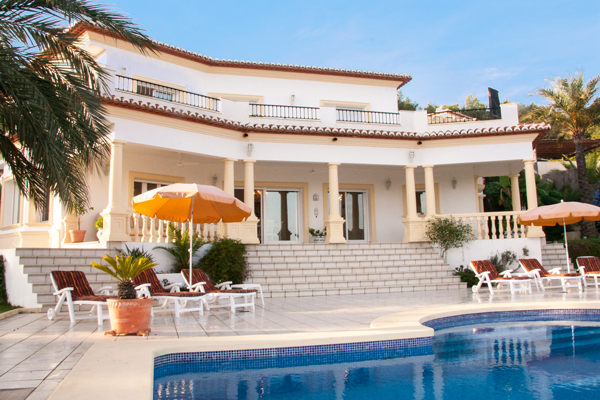 Area: Cami Cabanes



Bedrooms: 3 Doubles, 1 Twin
Bathrooms: 4
Pool: 10m x 5m
Garden: Larege lawned area and tearrace with great views
TV: Full UK TV, Wifi and Air Con in all bedrooms
3km to town, 1km to restaurant, 3km to beach

This superb luxury, two-storey villa is situated in a quiet, residential area of Javea and has been constructed and furnished to the highest standard, giving an overall impression of space and light. It is approached through large wooden gates and is completely enclosed and private.
There is ample parking for 4 cars including two under a carport. The large garden is laid mainly to lawn with a number of paved and patio areas and there are plenty of sun-beds for relaxing around the 10 x 5m swimming pool with roman steps, and taking in the magnificent views, over the valley to the Montgo mountain or along the valley to the Arenal and the sea beyond. The large, covered terrace affords plenty of shade and comfort for relaxing or enjoying al fresco meals prepared on the barbecue. There is an outside pool shower.

The main entrance to the villa leads to a large hallway and on to three of the four bedrooms, one of which is very large with luxury en-suite bathroom, one twin bedroom and a double bedroom share a bathroom. A wide staircase from the hall leads downstairs to a beautifully furnished master bedroom with a king-sized bed and luxury en-suite bathroom , a guest bathroom and beautifully furnished lounge / dining room, which overlooks the garden and pool.

There is satellite television, and wifi. The large kitchen is equipped with oven and hob, fridge freezer, microwave and dishwasher. The washing machine is in the adjoining utility room.

Javea town, with its shops and market is less than a five-minute drive away. Also less than a ten minute drive brings you to the blue-flagged Arenal beach with its shops, bars and restaurants.
Casa Buenavista 2018
Deposit of 25% is required to secure reservation.
Balance due 8 weeks before holiday.


06 Jan 2018

£ 600

11 Aug 2018

£ 2,650

13 Jan 2018

£ 600

18 Aug 2018

£ 2,650

20 Jan 2018

£ 600

25 Aug 2018

£ 2,650

27 Jan 2018

£ 600

01 Sep 2018

£ 1,400

03 March 2018

£ 600

22 Sept 2018

£ 850

10 March 2018

£ 600

06 Oct 2018

£ 750

17 March 2018

£ 600

13 Oct 2018

£ 750

24 March 2018

£ 700

20 Oct 2018

£ 750

14 April 2018

£ 750

27 Oct 2018

£ 600

21 April 2018

£ 750

03 Nov 2018

£ 600

28 April 2018

£ 750

10 Nov 2018

£ 600

05 May 2018

£ 850

17 Nov 2018

£ 600

12 May 2018

£ 850

24 Nov 2018

£ 600

19 May 2018

£ 900

01 Dec 2018

£ 600

07 July 2018

£ 2,200

08 Dec 2018

£ 600

14 July 2018

£ 2,400

15 Dec 2018

£ 600

21 July 2018

£ 2,650

22 Dec 2018

£ 750

28 July 2018

£ 2,650

29 Dec 2018

£ 750

04 Aug 2018

£ 2,650
To check availability click here (opens in new window)
To reserve or enquire about this villa use our enquiry form