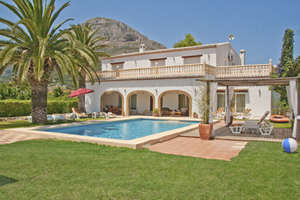 Area
Javea Town, near Montgo
Bedrooms
4 Doubles, 1 Twin, space for extra beds
Bathrooms
5
Pool
11m x 6m with Roman Steps
Garden
Large lawns and terraces
TV
4 separate systems of Sky
All rooms have ceiling fans and air-con
Pool Table & Table Tennis included
Pool Heating available in Winter at £70 per week
Restaurants within 1km
This superb, newly reformed villa is situated at the base of the Montgo mountain, enjoying impressive views of the montgo mountain and the open valleys.
The house stands in large, enclosed grounds.
The 11 X 6 metre pool is surrounded by grass and large terraces.
Entrance to the villa brings you to an open hallway, with a modern, fully furnished kitchen with central breakfast bar, to the left, and a spacious sitting /dining room to the right. Carrying on into the hallway, the games room is to the left, with pool table, bedroom is in front, and access to the large tv room with 50" plasma, and downstairs shower room is to the right. The house is wi-fi enabled allowing free access to internet / email.
The beautiful marble staircase leads upstairs, to the bedrooms.
The master bedroom has a seperate dressing area and a huge, modern bathroom with jacuzzi bath.
There are four double bedrooms and one twin bedrooom. All bedrooms are en-suite
Three of the bedrooms have access to the large open terrace with ample seating so you could enjoy a glass of wine together before retiring to bed.
The nearest restaurant is no more than ikm away. The villa is less than a ten-minute drive to the blue-flagged Arenal beach and the town of Javea with its markets, shops, bars and restaurants.

To check availability click here (opens in new window)
To reserve or enquire about this villa click here to use our enquiry form


Casa Paulina 2018
Deposit of 25% is required to secure reservation.
Balance due 8 weeks before holiday.
7 April
£800

25 Aug

£2800

30 June

£1900

29 Sept

£1100

11 Aug

£3200

13 Oct

£900

18 Aug

£3200
Casa Paulina 2019
Deposit of 25% is required to secure reservation.
Balance due 8 weeks before holiday.

30 March 2019

£ 700

17 August 2019

£ 3,200

06 April 2019

£ 800

24 August 2019

£ 2,800

13 April 2019

£ 800

31 August 2019

£ 1,800

20 April 2019

£ 850

07 September 2019

£ 1,500

27 April 2019

£ 900

14 September 2019

£ 1,100

04 May 2019

£ 900

21 September 2019

£ 1,100

11 May 2019

£ 1,100

28 September 2019

£ 1,100

18 May 2019

£ 1,250

05 October 2019

£ 900

25 May 2019

£ 1,350

12 October 2019

£ 700

01 June 2019

£ 1,400

19 October 2019

£ 700

08 June 2019

£ 1,400

26 October 2019

£ 700

15 June 2019

£ 1,500

02 November 2019

£ 600

22 June 2019

£ 1,550

09 November 2019

£ 600

29 June 2019

£ 1,900

16 November 2019

£ 600

06 July 2019

£ 1,900

23 November 2019

£ 600

13 July 2019

£ 2,600

30 November 2019

£ 600

20 July 2019

£ 3,200

07 December 2019

£ 600

27 July 2019

£ 3,200

14 December 2019

£ 800

03 August 2019

£ 3,200

21 December 2019

£ 800

10 August 2019

£ 3,200

28 December 2019

£ 800

And check for the best deal on car hire from Alicante
Useful Links
3 bedroom villas
4 bedroom villas
5 bedroom villas
Javea Guide
Javea's Arenal Beach
Javea Port
Javea Old Town
Javea Restaurant Reviews
Car Hire
Celebs in Javea
More Javea Pictures
Javea Weather Forecast
Javea Parador
Javea Beaches
Alicante
Denia
Javea Villas to Rent with air-con (air-conditioning)
Javea Villas with Wi-Fi
Javea Tapas
Javea Bike Rental